Prior Lake Chamber of Commerce will be hosting an unique Lakefront Days!
The Prior Lake Chamber of Commerce has been promoting businesses within our community since 1970 making this our 50th year!  During this time, we would like to highlight this milestone by virtually celebrating 50 days of Lakefront Days as a token of our 50 years of being an organization.
The celebration of Lakefront Days for our local businesses and our community will begin on Monday, July 13, 2020 and end on Monday, August 31, 2020.
Medallion Hunt – look for weekly clues (1 per/week for 8 weeks) and the winner(s) will receive a $200 prize
Our Lakefront Days committee is planning the following events: virtual parade, virtual 5K run/walk, wine/beer food pairing, silent auction, stock your bar drawing, golf on Main, and Ladies Night Out.
Viking Liquor STOCK YOUR BAR RAFFLE
1ST Prize- Valued $1300:
$500 Gift Card to Viking Liquor
Surley Fridge
3 Assorted Cases of Wine
1 Assorted Case of Liquor
3 Assorted Cases of Craft Beer
BUY Tickets ONLINE   ($5 each)
or buy at Viking LIquor (following CDC guidelines) tickets bought have to leave premise and sign the raffle with your own pen and return tickets to Viking Liquor or Chamber office (4785 Dakota Street SE)
Prior Lake Chamber X-70046-20-002
Drawing will be on August 28 at 9 am on Facebook Live

Edina Realty Silent Auction -online
Lakefront Days is hosting Edina Realty Silent Auction online.
Due to COVID, we are hosting an online auction, all profits will go to local businesses!
To bid:  https://www.accelevents.com/e/plchamber
Bidding starts Sunday, August 16 and ends on Sunday, August 30
Virtual 5K Run/Walk
We are organizing a virtual Lakefront Day's 5k to keep the spirit of the event alive and add some fun to your running/walking during this stressful time.  The Virtual Lakefront Day's 5k, which will launch on Monday, July 18th, is 100% optional – simply participate in a way that seems appropriate to you.
Submit virtual race results to our virtual results page (https://www.facebook.com/LakefrontDays5K/?modal=admin_todo_tour)
Enjoy on-the-run social media activities like sharing your best finish line face or your completed virtual Lakefront Day's 5k race route.
Enjoy gift bags with certificates from local businesses, a finishers medal, a Lakefront Day's t-shirt & a finishers drink at a local restaurant.
Win prizes by random drawing when you participate!
The Lakefront Day's 5k launches on Saturday, July 18th – and runs through Monday, August 30. Complete your run and post results anytime during the period. Use #LFD5k when posting on social media.
Viking Liquor Stock the Bar
Buy a raffle ticket for $5  to win the opportunity of several stock the bar items.  Items will be on display at Viking LIquor (space is limited) and/or shown on Lakefront Days' Facebook Page.  Tickets may be purchased at Viking Liquor (due to CDC guidelines, we ask that you fill out the ticket with your own pen) and returned your ticket to Viking Liquor or dropped off at the Prior Lake Chamber office (4785 Dakota Street SE, Prior Lake)
Tickets can also be bought ONLINE.
Highmark Companies Golf On Main
Businesses will be decorating inside their businesses and downtown on Main Avenue a putt-putt course.  This is a family friendly event, Main Avenue will be closed down.
Saturday, August 29, 2-6 pm.   To sign up a team of 4 people:
No outside alcohol will be allowed to enter the closed street.

The medallion has been found.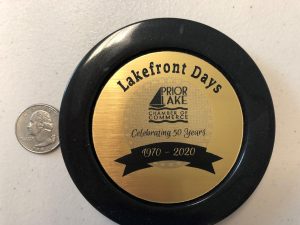 CLUE 8-August 31, 2020
In 1948 this park came to be
Thousands of our forbearers this park did see.
A prop symbolizes those lost at war
With most urgent prayers there'll be no more.
The Jays, Mudcats and Lakers home
And lifelong baseball fans here do roam.
CLUE 7-August 24, 2020
No luck you say at that park
And you still feel in the dark.
Then seek two parks with all their games
Which honor two local names.
CLUE 6- August 17, 2020
Two parks down and three still afoot
Maybe in the next you'll find the loot.
A natural park great for a hike
With scenic vistas of the Pike.
CLUE 5-August 10, 2020
When the summer weather makes you sweat
We two provide swimming so don't fret.
Grab a towel and hit the beach
The Medallion may be just in reach.
CLUE 4-August 3, 2020
Now take that number minus one
equals five community parks for fun.
But in which parks do you look
The next clues will take you off the hook.
CLUE 3-July 27, 2020
Business support is the Chamber gig
To find the medallion please don't dig.
To start your trek, think roundabouts.
How many do we now tout?
CLUE 2-July 20, 2020
Fifty years in fifty Days
Virtually in many ways.
Hunt from home you can do
but zero likelihood of winning for you.
CLUE 1-July 13, 2020
Friends and family come on down
Lakefront Days is back in town.
Form your teams; see city parks
Follow the clues; it will be a lark.